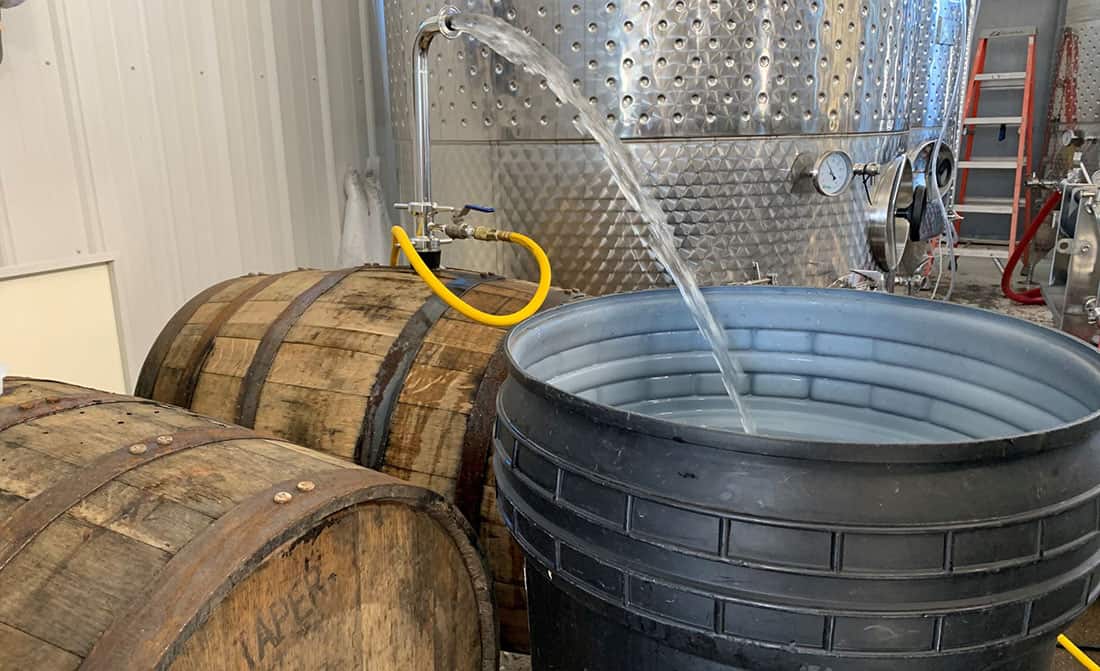 Tales from the Meadery #1 – Her writes a blog and other things I never thought would happen
Tales from the Meadery begins as we work through the consequences of this COVID-19 thing. Here's the deal.
I work from home. Mostly. Our little winery is located about 700 m from my house. My office is in my house, so when my work centres around answering emails, or dealing with various levels of government regulations or, say, blogging (though that part is new!) I work from my home office. Him has a desk right behind me. He likes to seek my insight, input and approval for the work that he does. Sometimes I work with headphones on.
Some days require my presence in the winery. Some days I find myself up to my armpits in honey or cursing our not-always-reliable wine pump.  Most winery tasks (sorry if I'm destroying the romance) involve cleaning. 10% cool stuff and tasting wine and 90% scrubbing. I think that's about right.
Last week, in an effort to stave off the COVID-19 pandemic just starting to make its appearance in Saskatchewan, the schools closed. This means that our Minion of Four is home. All day. Every day. There are no playdates, no extracurricular activities. Just four kids ranging from 8 (just turned and no birthday party) to 14. It's… interesting.
So far the Minion of Four has been allowed to entertain themselves with movies (DVD only, no streaming), video games, board games, fort building, and our generous supply of books; not to mention being encouraged to wander outside with our Security on Eight Legs, weather permitting. YouTube has been severely restricted, due to our rather crappy rural internet functionality. Revolts have been mercifully minimal. That may change next week, when I plan to reintroduce the concepts of math homework, etc.
So here we are, can't go anywhere, blessed to be out in the country so we're not feeling hemmed in, and NO ONE is buying mead – my work has become weird.
Our response: Let's write a blog! Let's try to entertain people with tales from the weird and wonderful world of our craft meadery. You're all stuck inside too. So come visit my world for a brief span of time. I'll try to make it fun.
Let us return briefly to the title of my inaugural blog post – things I never thought would happen. Apparently a global pandemic is the first thing, and has some interesting follow-on effects. How about a list? Bullet points help to break up formatting (I'm entertaining and educational!):
Schools shut down in March with no sign that they will open again until September.
My kids finally start to understand why they have to wash their hands
We set a new record of 11 days (so far) without eating out. (Please don't judge me. Between the business and four kids with extracurricular activities there is always at least one day a week where I answer the "what's for dinner" question with "I don't know! We'll grab something in town")
My craft distillery compatriots have moved from making vodka to making hand sanitizer. (Kudos to all of you.) I cannot follow suit, as I do not have a still.
We decide to offer contactless liquor delivery to Moose Jaw. (order online at prairiebemeadery.ca)
In an effort of child distraction our family farm buys an ewe and two lambs from a neighbour. Our "just put it in there for now" outbuilding gets cleaned out to accommodate the livestock. Serious discussions proceed on getting a couple of alpacas.
Superstore puts a handwash station in the entrance of their store (and a divided line up area outside in order to limit shopper capacity) and Him and I actually use it. And encourage the person coming in behind us to do the same.
There's probably more, but it's amazing how fast things become your new normal.
Other fun outcomes of the current situation include The Grandpa going with Him to the dump (any change in scene being a positive one at this point) to get rid of the stuff that came out of the "just put it in there for now" outbuilding. And then managed to sprain his ankle, as diagnosed by a phone call with the doctor, because he has been encouraged to not go anywhere near the hospital. Perhaps I should add "doctor's appointments by telephone" to the things I never thought would happen. At least the crutches I had to have following the guerilla gopher attack I suffered last fall have come in handy.
The Enthusiast is the one who is most keenly feeling the effects of our current "shelter in place" instructions. Her seemingly boundless energy is resisting containment, and we are not sure what will follow the current spate of basement painting and bread baking. I will soon direct her to go tile my bathroom in an effort to distract her from continuous monitoring of worldometer's coronavirus page.
We have reached the point (it didn't take long) of wondering how long this new situation will obtain, and how we can keep our business running with, let us say, the attendant significant decrease in retail traffic and wholesale orders, and being optimists, we've set our sights on the summer.
For the first time, we are going to be opening our winery up for tours (online booking now available!). We're doing some minor renovations (more exciting information to come in later posts), to make our facility tour friendly, and I'm using this "downtime" (the politest word I can come up with) to plan, script and otherwise prepare for welcoming visitors and opening up the world of mead to them. Because that's a lot more for fun than finally getting to the commercial insurance review that I've been putting off for six months; although fairly soon I'm going to run out of things that are more important and have to do it. Yay.
Stay tuned for more Tales from the Meadery!