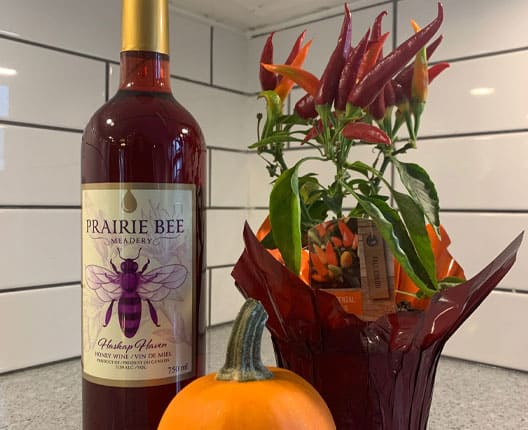 Origin Story
Just like any superhero we at Prairie Bee Meadery have an origin story, a secret identity and a fine cast of characters. You will meet the following;
"The Grandpa" – Mild mannered farmer and businessman. Weekend pancake hero. Destroyer of Weeds. Salesman par excellence. Married to the Enthusiast. Secret weakness: Coffee.
"The Enthusiast" – Teacher. Planter. Grower. Painter. Quilter. Potter (not the Harry kind). Jewelry Maker. Stain Glasser. Vactioner. Mover. Shaker (of smoothies). Idea Lady. Grandmother. Married to "The Grandpa", mother of "Her". Secret weakness: multi-tasking
"Him" – Master logician and organizer. Skid steer driver, Opener of jars, Disposer of the useless and Finder of lost things (especially those in plain sight). Married to "Her". Secret weakness: kitty litter.
"Her" – The Meadmeister. Fixer of pumps. Maker of lunches. House Builder. Horde Spawner. Community Participant. Women of the Year (plural as proclaimed by "Him"). Actor of many parts. Lounger on Couches. Married to "Him". Secret weakness: vacuum cleaners.
"Minion of One" – Gamer, student of the universe. Super powers still forming. Son of "The Grandpa" and "The Enthusiast". Secret weakness: Teenager.
"Minion of Four" – Horde of Kids, spawned by "Him" and "Her". Secret weakness: internal dissent.
"Security on Eight Legs" (but not the creepy kind) – Two dogs woofing, and chasing and eating and sleeping. Secret weakness: Too much food.
Over time you will learn all about them.